| | |
| --- | --- |
| | Playout Express is the streamlined, easy to use application designed for small scale part time/Internet radio stations and mobile discos. It's the same presenter front end as the Full and free/trial version of Playout but includes a dedicated application designed to manage all your music and jingles along with the tools to create unlimited numbers of playlists. |
Playout Express is ideal for anyone broadcasting on a small or part time Internet radio station. In terms of the PC used to run Playout, the most basic machine available in the shops today has enough processing power to comfortably run the software. To get the most out of the system, you'll want to fit a second soundcard or opt for a more professional multi-channel card.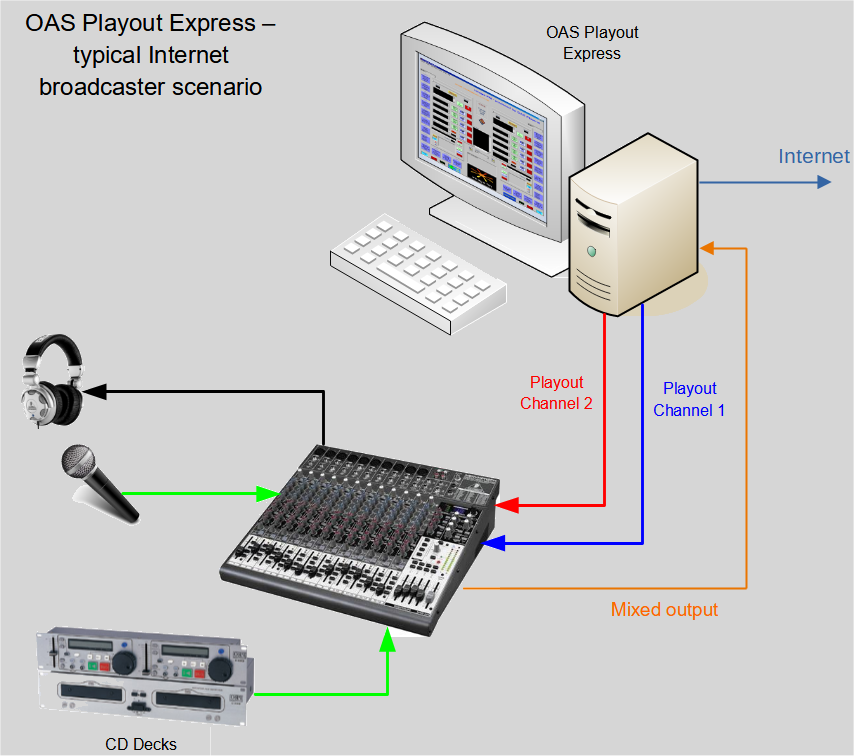 Typically the outputs from Playout are then fed into an external mixer, along with your other audio sources with the final output being fed back to a line input on the PC where it can be compressed and then streamed out over the Internet. Playout does not include audio streaming software however there are many freely availablle packages which can be used to accomplish this, for example the aptly named butt - or "broadcast using this tool."
Playout Express comes with a dedicated application that is used to manage all of your audio content. You use this to "load" in all of your music, jingles etc. that you want to use with the system. Jingles can be organised into different categories if requires - station idents, stingers etc. The application also automatically normalizes all the audio content which ensures the audio output are set to the same levels. This avoids the need to keep adjusting the mixer faders in order to manually compensate for this.
Playlists are fully supported within the Express version - the package includes not only the ability to manually construct them (eg. for putting together the running order for a broadcast) but also includes an automated playlist generator which allows the creation of semi-random playlists based on your music collection. Typically this is used if you need to support periods of unattended playback ie. automation.
You can try out the Express edition free for a 14 day trial period, after which time you will need to contact us to purchase a license if you wish to continue using the software.
Mobile discos and small scale radio stations.
Playout Exoress will comfortably run on any modern laptop making ideal for the mobile disco market. These machines also provide ample hard drive space for the storage of enough music for all occassions.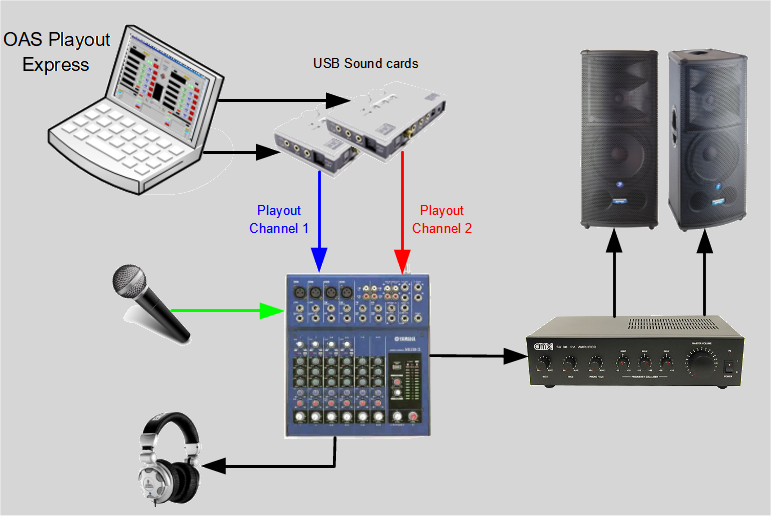 Most laptops (in line with desktop PCs) include on board sound capability so to take advantage of Playout's dual channel output you will probably want to attach an additional card, typically via a USB interface. However there may be merit in attaching either a dual card or two identical ones as the onboard cards tend to be of low quality.