| | |
| --- | --- |
| | The full version of OAS Playout is designed to form an integral part of any small scale radio station such as a Restricted Service License (RSL), hospital radio or one of the many new community radio stations. It combines a friendly, easy to use interface backed up with comprehensive features such as playlist generation, automation and voicetracking. |
Deploying Playout into your radio station
OAS Playout is a Windows based PC application and is designed for the playback of compressed digital audio - such as the popular MP3 format. However it only forms one part of much larger system within a radio station - here is a typical "bare bones" scenario of deploying Playout on a radio station.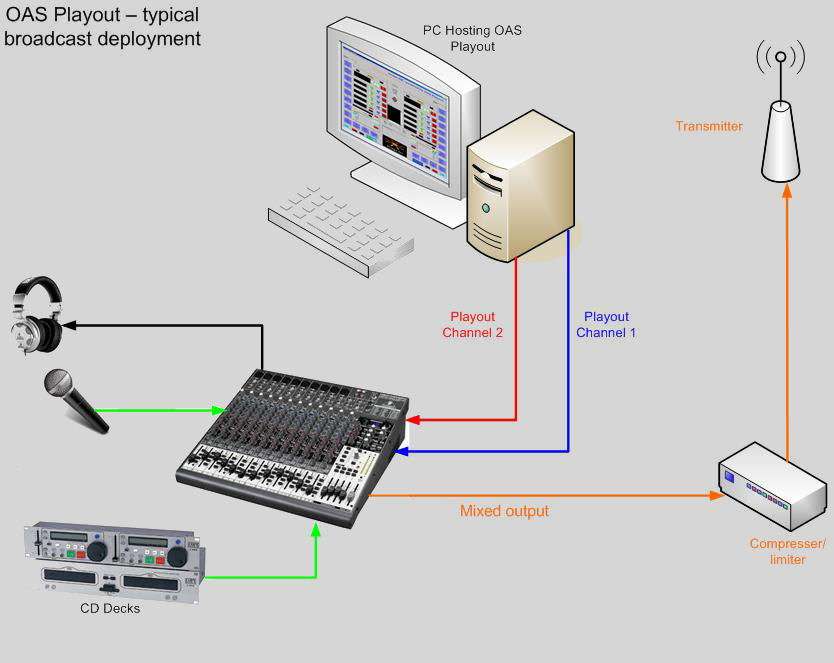 In terms of the PC used to run Playout, the most basic machine available in the shops today has enough processing power to comfortably run the software. Rather more important is the amount of disk storage you have available for storing the music - a typical 3 minute high quality MP3 will be in the order of 6-8MB and if you opt for one of the lossless audio formats such as FLAC this figure will be in the order of 20MB. Also very important are the sound cards used on the PC. Most PC's normally include a sound card as standard however to make the most of Playout (which is a dual channel system) you will want to fit a 2nd card. Commercial sound cards can normally be purchased from £30 upwards. In the long term however it is worthwhile considering the use of professional sound cards particularly if you are operating a full time station. Ones known to work well with Playout are the M-Audio Delta series. A good quality monitor is also essential especially if presenters are using the machine for many hours at a time.
You may also need to use some third party software in order to create the compressed audio files (MP3 typically) to be used with Playout, especially if the audio needs to be converted (or "ripped") from CD. All modern versions of Windows include Media Player which include this capability and OAS particularly recommend the Audiograbber software for this purpose. Either way, a key thing to take advantage of is in making use of the online internet CD databases (CDDB) which can automatically retrieve the metadata (track Title, Artist, Album etc.) for CD's as they are being ripped. This saves a large data entry process and the data is then automatically available for use within Playout.
The full version of OAS Playout includes a dedicated application OAS Playout Manager which is used to manage all your audio content. The process first involves importing all the audio files into a dedicated database. The tool then allows the editing of track information - title, artist, album etc. and the creation/editing of playlists, voicetracked programmes etc. All this information is then accessible by the main Playout application itself.
The twin outputs from Playout are designed to be fed into an external mixer (along with other audio sources), before being fed to a transmitter, possibly via some sort of compressor/limiter. For this reason, Playout does not include any form of mixing controls within the software although basic volume controls are available for each of the channels.
A more realistic scenario
The reality is that if you are intending to run a full time station - 24 hours a day, 7 days a week, this simplistic scenario is soon going to prove inadequate - notably because it is going to prove difficult to load new music onto the machine if it is continually in use. In addition, you may want to offer some form of internet streaming capability, handle email traffic etc. Most likely you are going to need some form of PC network, including (as a minimum one additional PC).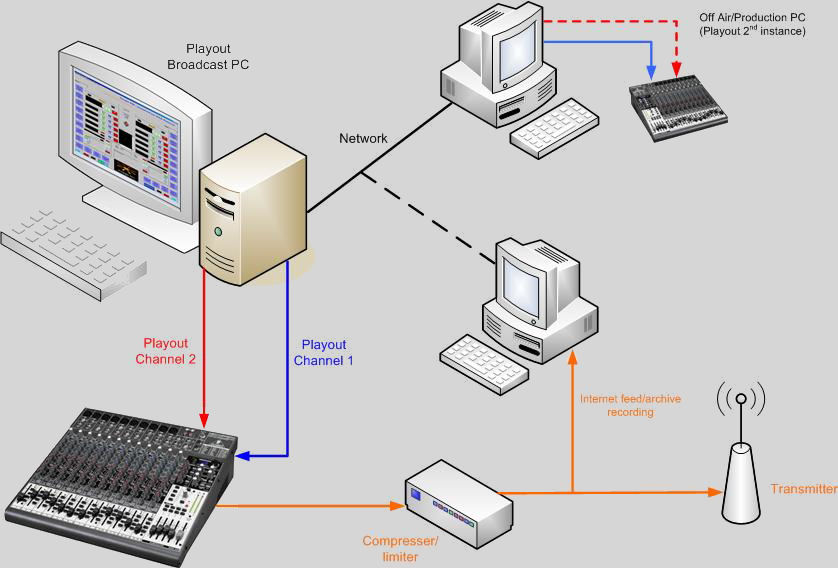 The above diagram depicts the type of architecture which would be typical of a full time community radio station or RSL. Playout is deployed as before on a PC in the main broadcast studio however both the audio content and Playout's database are made accessable via a PC network. A second PC held in an adjacent studio forms part of an off air/production studio. It is this machine that is then responsible for much of the off air management of Playout - ripping CD audio, creating playlists etc. Since the system is shared across the network, the audio is then available instantly to the main broadcast PC. The off-air PC need not be as capable as the studio one, in fact it may not need a 2nd sound card fitted. However there is some merit in considering that the off air studio could not only be used for training purposes (where it would need to closely mimic the main studio PC) but also should the studio PC fail in any way it can be quickly swapped with the off air one with the minimal of effort. It's also for this reason that we offer discounted licenses for two instances of Playout.
A third PC may also be deployed for internet streaming purposes & possibly other miscellaneous function such as emails etc. Playout does not provide any form of internet streaming capability - there are many (freely) available packages which perform this function. However it does provide the ability to include "track now playing" type details to some internet streaming software which then appear on the listener's player. This feature also allows the details to be included on the station's website if required.
There are of course further variations on this arrangement, one such common example is in the use of a central file server which is used to hold both the audio & Playout database. This then ensures that if either off air or main studio PC fails the audio is always available. You will also need to consider performing regular backups of your entire system such that in the event of a catastrophic failure you have not lost all this valuable data.
Unfortunately OAS (although we have been involved locally in setting up an RSL in this manner) are not equipped to advise and install a full studio environment such has just been identified. In addition to this, you will also require ongoing IT maintenance to ensure the system continues to function along with performing the necessary backups. However we can recommend the services of Now Productions who we've worked very closely with over the past few years particularly on the community radio front. They also provide training dedicated to using OAS Playout in a broadcast environment. We have also worked with Station-Z Media Production Services, particularly through the Hastings Rock RSLs.