Introducing the new OAS Playout v4...
Over four years in development, the new version of OAS Playout is not so much a revolution as an evolution. Working closely with many of the stations that use Playout on a daily basis and building on nearly 20 years of developing radio software, our new version keeps the look and feel that we know presenters love whilst giving it a fresh modern look. Totally re-written from the ground up, take a tour of what the new Playout has to offer.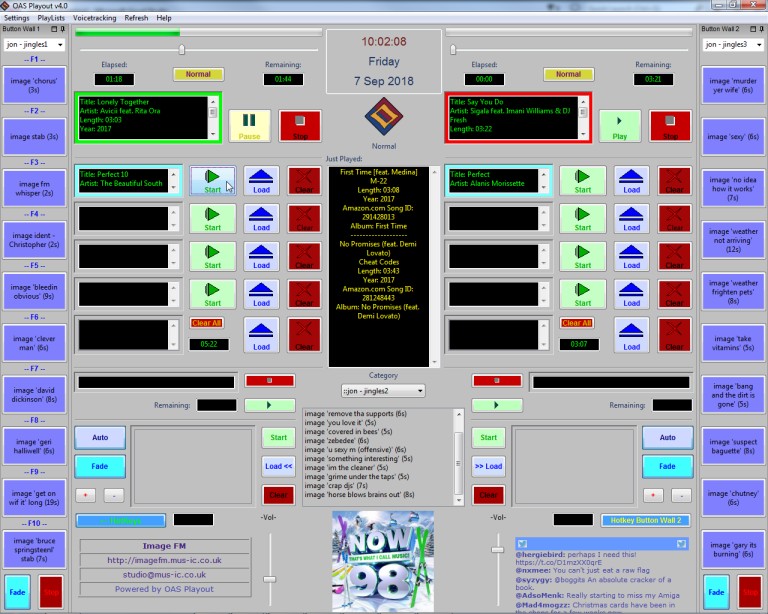 Click image for full size preview
Fully scaleable - the new version is designed to work (and scale with) with today's high screen resolutions. From HD to 4K Ultra HD and beyond, Playout looks great and expands to make the best use of the space available making it ideal for touch screen operation. Want even more room? Both the button walls are now detachable and can be dragged to one side (or to another monitor) therefore maximising the real estate on your screens.

Version 4 replaces the scrolling text alerts with two dedicated Web Consoles (located underneath the Jingle Consoles). As well as static text, these can display web based content including grahics and pictures from any local or Internet source. You can even include your social media feed in them. Album artwork is also improved with Playout able to automatically search for and download content if it's not held with the media file itself. Album artwork is now also available as part of the Now Playing information so you can include this on your website as well.
This version also includes a new audio loudness normalization capability which is a significant improvement over that in previous versions. Using the EBU R128 standard, it utilises the same technology as TV stations and media content providers such as YouTube and Spotify use to ensure the audio volume is equalized to the same levels across all tracks.
Drag and drop has been extended in that it's now possible to simply drag files straight from Windows Explorer into any of the Consoles - without the need to load them into the database using Playout Manager.
Version 4 is also cross-platform - that means it's not tied to running on Microsoft Windows, you can also run it on Linux too. It'll even run on a Raspberry Pi! Please contact us for more details if you are interested in running Playout under Linux.
This is just the start - over the coming months we'll be refreshing OAS Playout Manager and continuing to add new and exciting features to both packages.
Explore the new OAS Playout v4 further by downloading a free 28 day trial version of the package. This is a time limited version that allows you to get a feel for what the package has to offer but excludes some of the more advanced features such as playlisting, voicetracking etc.