| | |
| --- | --- |
| | OAS Playout trials |
Every so often the latest pre-relase of Playout is put through it's paces by myself and fellow testers in a pseudo-broadcast format. There are now 2-3 of us involved in this which occurs several times throughout the year - the "broadcasts" are put together using the kit I have here and from the home-built studios at Image Communications. Just to share the quite often painfully bad abilities of us these are also streamed out on the 'net via Shoutcast servers.
Environment
System (here) is an AMD Athlon/XP 1.4Ghz (640MB RAM) running Windows 2000 with 2 PCI sound cards - SBLive and SB PCI128 with (new for 2005!) a 19" LCD display. Audio is held on a networked Linux machine via Samba shares linked via 100MB ethernet.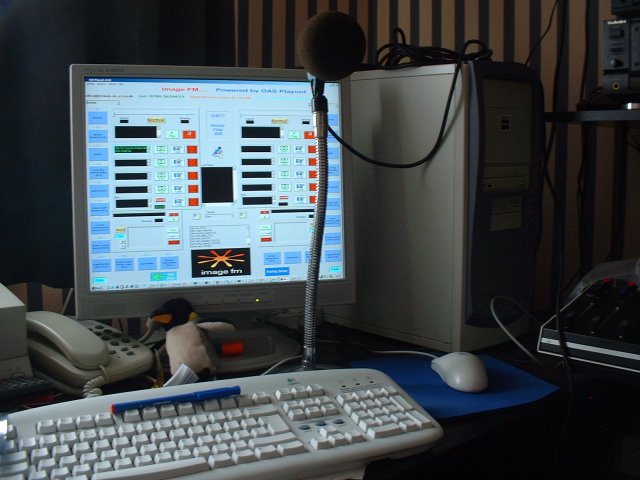 The whole lot is in a spare bedroom. Outputs from each soundcard are fed into a mixer along with Mic, CD and tape. Mixed output is fed to amp and minidisc for recording. Output is also fed back into the SBLive for streaming purposes - the Shoutcast servers are hosted on the Linux machine which is my gateway onto the 'net (ADSL). These are normally backed up by other folk having ADSL connections forming a reasonable Shoutcast cluster server - it's all clever stuff.... This year (2005) we've adopted the rather impressive AAC+ format for encoding purposes using the Orban Opticodec LE+ - this provides near FM quality stereo at a 32kbps rate. The shows from the Image studios are sent here using a private Shoutcast stream at the highest bitrate we can achieve, then re-encoded out onto the main cluster.
The mixer is a home made job (circa '93) - amazingly enough still working although it's beginning to show some wear and tear now, crackles on the faders, channel drop outs that sort of thing but suffices. It provides 3 stereo channels, 2 mono and 2 mic channels.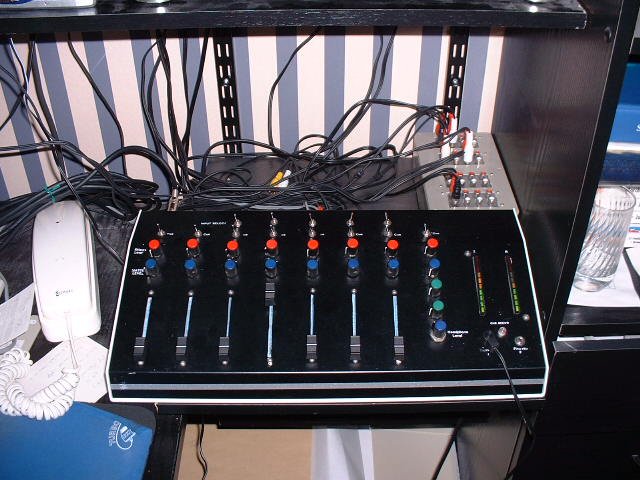 Trial logs
Most recent first....
1. OAS Playout v3.11 (Beta release) & v3.09 [ASIO], 17/06/07
It's been quite some time since we did one of these and also had something worthwhile to write up about which could well be considered a positive sign of how well the product has matured. For this broadcast we teamed up with the folk at ftlfm.com borrowing their server to put out a 128kb/mp3 stream direct from here then Luton on a Sunday evening.
Duration: 120 minutes, split at 60min here & 60min relayed from "Image communications, Luton"
It was a bit of a short notice job this broadcast and I wasn't that happy with my playlist or the show content but we but it together anyway. The Shoutcast stream all worked very well and it was a bit of a plus not to worry about the clustering issue in the past. For my show, I was using my current latest build of Playout, v3.11 which performed faultlessly. My only quibble being a change I put into the v3.09 release (at Jim's request though he can't remember) which is to 'fire' the button wall when the mouse button is initially pressed - if you try now with your mouse you'll notice the action is normally taken when you release the button. On paper this actually sounds like a good idea - the clip fires instantly and you don't hear the little 'click' you quite often get on radio stations these days. The trouble is I'm so accustomed to the normal way the mouse works that I tend to press the button early ready to release it when a track finishes - the net result being me firing jingles off way to early.
Jim was using the slightly older v3.09 release, significantly for the first time using my ASIO module bolt on which all seemed to work seemlessly - a definate improvement over DX on his Gadget Labs card which has always been prone to problems.
Outside of Playout, possibly the most frustrating thing is listening to the end result, the quality of my show sounds quite horrible in places with levels peaking and saturating. Initially I thought that this was my fault in that this is the first show we've done since I've replaced the Creative Labs SoundBlaster! drivers with the Kx Project ones and sure enough had never set the input level up however having just played with it earlier today it still sounded awful. Having performed a 'Device Reset' it now seems okay but it's damn annoying considering I don't think I changed anything from the initial defaults anyway.
Hear the shows again on the Image FM website.
2. OAS Playout v2.7 (Alpha 2)/v2.62, 13/11/05
Shoutcast streamed out on a Sunday evening using the 2.7 alpha release (here) and interim release v2.62 (Luton). From a technical standpoint both versions are identical in terms of core functionality - voicetracking has been introduced in the new alpha releases which was not used here.
Duration: 120 minutes, split at 60min here & 60min relayed from "Image communications, Luton"
In line with the shoutcast server I put together last broadcast, we had a split of 6 AAC+ streams at 32kb/stereo with 2 spare 24bit MP3/mono streams (enough to fit a 256k ADSL uplink). Unfortunatly whilst we continue to be impressed with the quality of AAC at low bitrates, the fact that Winamp is the only mainstream audio player to support this seems to be causing people an issue - the 24bit stream rapidly filled up with the AAC one fairly unused and there were (so I gather) one or two frustrated people out there. So we may have to bow to pressure (such as it is) and spin up a few more MP3 streams, possibly clustering to do this.
Over to Playout and once again the only thing worth mentioning is the re-occuring audio "hiccup" or skipping effect - Jim seemed particularly plagued by it. I also had a few occur during my show but then I only seem to get them when the webcam is running - reaffirming my belief that Webcam Are A Bad Thing. There may be some mileage in going back to an earlier decoder core and just seeing if the effect at Jim's end persists, myself I think next time I will turn of the 'cam this end and just see once and for all the skipping disappears. Fingers must also point at the "beta" & open sourced developed sound drivers for his Gadget Labs sound card (which don't support hardware acceleration). Also worth noting that a fair few of my tracks were in AAC/Mp4 format which didn't cause any problems and still suffered from the odd hiccup - implying that whatever the problem is, it is almost certainly on the audio output side rather than the decoder.
You can read another short write up and relive the audio experience on the Image website.
2. OAS Playout v2.6/3.0a, 24/04/05
Shoutcast streamed out on a Sunday evening using the 2.6 beta release and an early enhanced v3 release.
Duration: 180 minutes, split at 120min here & 60min relayed from "Image communications, Luton"
A new 'guest' DJ made his debut appearance on the station hence the extended run of 2hrs from here.
Technically, there was a brief panic as a little before half an hour it dawned on me that to stream both MP3 & AAC+ formats (via two different encoders) would probably require two sound card inputs - true as it turned out so a hasty wire in the PC128 card to feed the other encoder. Technically things held up well throughout the first 2hrs (hosted here) but something nasty happened to Jim's 128kb/stereo link to here - possibly 'net congestion and once'd he'd dropped to 96kb to fix that, my Linux server decided to shut down for the night, so unfortunatly we lost a good 10-15mins of his marvellous show.
On the Playout side of things (which is really what it's all about) no real problems - here we were using the current 2.6 beta running (now I've subcumbed and bought a 19" LCD job) for the first time in it's new 1280x1024 mode, again no real problems there. Brian (our guest DJ) thought some short jingles were truncated when playing out - it's possible I've had difficulty with playout out very short (<1s) clips in the past but needs investigation - it could be cue points cutting in plus he also had some mono jingles which are only playable using my latest very experimental decoder. He also spotted (as did I) a few hiccups (see previous broadcast logs) causing tracks to skip slightly. Again this is very difficult to judge since it could very well be any number of issues downstream of Playout and once again we were hosting a webcam on the same machine which is known to be troublesome. A positive note is that the weekend of Hastings Rock trial streaming I did a while back using a new XP install showed no hiccups and they are also on air as I right this using the same kit and to date there has been no mention of this occuring. So it's all pointing to external software & kit causing this problem.
You can read another short write up and relive the audio experience on the Image website.